____________________________________________________________________________________________________________________________________________________________________________________________________________________________________


Loomis Lair Guest Reviews


Guest Reviews

Mackenzie - Binghamton, NY
We had a wonderful time staying the this yurt! Michael was an accessional host who was ready and waiting to greet us when we got there. He is very knowledgable about this history of the land which was neat to hear about. The yurt was accurately described in his ad. Extremely clean and tidy. He has really thought of everything! The bed was very comfortable and our little dog loved the stay as well. We went hiking around the property as well as through the state forest. It's also close to a cute little town which we enjoyed walking around and did a bit of shopping. Even when it rained we had a blast! The yurt is very cozy and it was nice to have a toilet and shower with hot water inside the yurt. I would definitely stay here again and have already recommended it to my friends. Thanks Michael for a wonderful time :-)
April 2016

Brian- Clifton Springs, NY
It was a great place for a little getaway. The property is beautiful, and the yurt site has a wonderful view of the surrounding landscape. Michael greeted us cheerfully and oriented us to the site patiently, and he checked on us unobtrusively by text a few times but not too many. Cold rains (it was late March) kept us from exploring the property much, but the inside of the yurt was warm and cozy and very inviting. It's a small space but well-appointed and organized, and he has a selection of games and books available. It's very clean and in good repair, and he's clearly been thoughtful about making his guests feel at home. There's a small cabinet where guests are encouraged to leave mementos, and his guest book is much more than a simple list of names and dates. We would definitely stay here again or suggest it to our friends. Giving it five stars because it is exactly what it tries to be and is very, very enjoyable.
March 2016



Kimberly- NYC, NY
My boyfriend and I just got back from a 3 night retreat at Loomis Lair, and are already planning a return trip! This is the perfect place to "get away from it all," complete with gorgeous views, comfortable and cozy accommodations, and a most gracious host! To start with, the yurt is nothing short of wonderful. It is very well maintained, and the amenities and furnishings will provide all the comforts of home. It is very well heated with a brand new unit, so despite the lingering winter weather we were toasty the whole time! Unfortunately it was too cold to sit out on the deck/by the fire pit and enjoy the view, but this will be something to look forward to next time. I would recommend reading the materials Michael has there to get suggestions on cool things to do, and checking out the books on the Loomis Gang who used to occupy the land, which was a crazy, fascinating history lesson. Also, Michael is a great host, and a super nice guy! He gave us a very warm welcome and thorough tour upon arrival, and made sure we had everything we needed to enjoy our stay. His thoughtfulness in planning the yurt to be an ideal getaway spot shows! He has a small farm next to his house (up the hill from the yurt), and was nice enough to introduce us to his four goats, numerous ducks, and adorable puppy Claire. Unfortunately it was too cold for the goats to join us for a "Goat Walk," but the guestbook tells of previous guests having a blast hanging out with Oliver and company. Overall, the ideal place to go if you want to have some quiet, solitary, unplugged R&R out in the countryside, without the comfort sacrifice that goes along with camping. It's great for visits in all seasons - enjoying a snowfall from the cozy comfort of the yurt (following it up with some killer sledding down the front field) was every bit as good as I imagine sitting around the campfire or enjoying the fall colors to be. I can't recommend a visit to Loomis Lair enough!
What Kimberly loved about your listing:
Everything! The yurt was so cozy and nice, I just want to spend another week hanging out and reading in it. Michael, you're a great host, we really appreciate everything you do and look forward to seeing you and the gang again!
What Kimberly thought you could improve about the experience:
More goats! Just kidding! Everything was great and nothing comes to mind that I'd change :)
March 2015


Kim and Ben, NYC, NY
My boyfriend and I just got back from a 3 night retreat at Loomis Lair, and are already planning a return trip! This is the perfect place to "get away from it all," complete with gorgeous views, comfortable and cozy accommodations, and a most gracious host! To start with, the yurt is nothing short of wonderful. It is very well maintained, and the amenities and furnishings will provide all the comforts of home. It is very well heated with a brand new unit, so despite the lingering winter weather we were toasty the whole time! Unfortunately it was too cold to sit out on the deck/by the fire pit and enjoy the view, but this will be something to look forward to next time. I would recommend reading the materials Michael has there to get suggestions on cool things to do, and checking out the books on the Loomis Gang who used to occupy the land, which was a crazy, fascinating history lesson. Also, Michael is a great host, and a super nice guy! He gave us a very warm welcome and thorough tour upon arrival, and made sure we had everything we needed to enjoy our stay. His thoughtfulness in planning the yurt to be an ideal getaway spot shows! He has a small farm next to his house (up the hill from the yurt), and was nice enough to introduce us to his four goats, numerous ducks, and adorable puppy Claire. Unfortunately it was too cold for the goats to join us for a "Goat Walk," but the guestbook tells of previous guests having a blast hanging out with Oliver and company. Overall, the ideal place to go if you want to have some quiet, solitary, unplugged R&R out in the countryside, without the comfort sacrifice that goes along with camping. It's great for visits in all seasons - enjoying a snowfall from the cozy comfort of the yurt (following it up with some killer sledding down the front field) was every bit as good as I imagine sitting around the campfire or enjoying the fall colors to be. I can't recommend a visit to Loomis Lair enough!
March 2015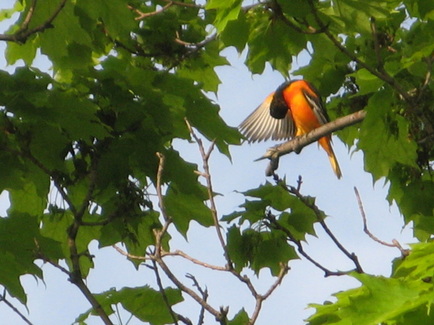 Northern Baltimore Oriole at Loomis Lair Photo credit- Michael Lloyd, May 2011
Ulla and Torben
,- Denmark
How do I do this place justice ?..... Imagine nature in autumn colors. Deer in the field below. Geese in formation in the sky. Stars through the ceiling dome. Poached duck eggs for breakfast. Quiet, calm and grounded after Two days in a Yurt in Loomis Lair. Thank you Michael for sharing. Your special spot in this world. Your passion and dedication. Warm and fund memories We will bring home with us to Denmark. A ones in a lifetime experience.
October 2014
R
achel, NYC, NY
We had a fabulous time at the yurt. It had everything we needed in an extremely clean and well organized space, not to mention an amazing location with beautiful views. Michael's hospitality was second to none, and made our trip easy and relaxing. Our two dogs loved to play in the fields and there is plenty of hiking in the area. Highly recommended- we'll be back!
October 2014
Heidi
, Long Island, NY
We had a great yurt experience! Michael is a wonderful host. The views were spectacular, it is a beautiful spot for a quiet retreat.
September 2014
Danika
, NYC, NY
This was our second year in a row staying at the Loomis Lair yurt, and it was even better than the first time! Michael is an amazing host: easily accessible the whole trip, recommending town outings, and leaving additional blankets on the porch after a particularly chilly night. Additionally, he has put in so much time and effort into each detail of the small space that you can't help but be impressed. As I said, this is our second year in a row because the yurt is so peaceful, and is not only a great place for us to retreat to from the city, but our dog, Otis, is free to be himself! He has an amazing time roaming the trails on the property, watching the deer family, and basking in the morning sun on the porch. All around great place for a couple + dog retreat! Tips: 1. Remember to bring coffee/tea so you can sit outside and watch the sun rise/set each day. 2. Enjoy the trail to the top of the Loomis property, and look for the hidden bench around the pond. 3. Bring coals to BBQ so you can enjoy a great meal outside while taking in the beautiful scenery. 4. Bring marshmallows to roast while sitting around the fire pit. 5. Don't forget to sign the guest book!
September 2014
Kimberly
, Syracuse, NY
Michael was a wonderful host and I felt welcome at the beautiful yurt. He made sure I knew how to open the windows and I felt very comfortable asking him questions when I arrived or if I needed anything during my stay. The yurt was equipped with everything I could need even though the weather was rainy and cold. It was a very relaxing and peaceful experience! The duck eggs that Michael brought were amazing!
September 2014
Candace
, Utica, NY
I would like to start off by saying the host Michael was super helpful, knowledgeable, and amiable. He immediately puts you at ease with his friendly demeanor while thoroughly educating you about the property. My boyfriend and I had many interesting conversations with Michael spanning several different topics. He is the resident expert on the Loomis Gang as well as the rich history of the local area. He is also teeming with food and entertainment recommendations to help you enjoy your stay even further (if you can pull yourself away from the property). He is always there for you when you need him, however he affords you complete privacy when wanted. As for the property itself, it is simply breathtaking. The beautiful pictures listed don't do the landscape or the yurt justice. It is one of the most aesthetically pleasing places I have ever been in my life. The vistas from the deck are life changing. In the morning while eating my breakfast I saw deer playing in the pasture as the sun glistened over the hills. At night, I stargazed through the sky dome in the yurt. Is was an extremely romantic and awe-inspiring experience. If I had to sum up my experience at the Loomis Lair in one word it would be bliss. I would highly recommend staying with Michael at the Loomis Lair, and I will most certainly be staying again. I hope to return soon to catch up with my new friend Michael, and to make more magical memories.
September 2014
Nicholas
, Brooklyn, NY
The yurt is the perfect locale for a getaway in nature and seamlessly bridges the gap between camping and a hotel – it's clean, comfortable and relaxing. Michael is a gracious and ideal host; he is very thorough in explaining the technical features of the yurt and offers helpful recommendations for day trips and hikes around the property. Even though the yurt feels totally private, Michael makes himself available via phone if needed. We will be back – thanks again!
September 2014
Ann
, New Jersey
Stayed in yurt 2 nights, August 25 & 26, 2014 with my teenage daughter and 3 dogs. The yurt is situated on a hill overlooking beautiful countryside and has all the amenities needed for a comfortable stay. Michael is a gracious host, who takes time to acquaint you with the layout and fascinating history of the property. He lives out of view, but is a quick phone call away if you have questions or need anything. The property had something for everyone. Michael maintains trails on his 80 acres, which were great for hiking with the dogs, and my daughter just loved reading in the provided deck chairs with the beautiful valley view as a backdrop. I highly recommend a stay here and look forward to returning.
August 2014
Donna
, New Hampshire
classical music rolling hills grazing deer warm fire puffy clouds clear air solitude slice of heaven.
August 2014
Julie
, Texas
This is the second year we have come to stay at the yurt and we already look forward to next year. Michael is a kind and thoughtful host. He has stocked the yurt with everything you need for comfort, convenience, and information on the area. The setting and the view are so relaxing. We would 100% recommend a stay here.
August 2014
John
, Rhode Island
Michael is the ideal host--gracious, informative, enthusiastic about his glorious acerage, and unobtrusive. We loved our five days at Loomis Lair last week. This was our first time in a yurt, and we were delighted to discover how well-appointed it is, and how perfectly perched it is for viewing the glorious Mohawk Valley. Michael's ducks, geese, mohair goats, and Portuguese Water Dogs seemed glad to meet us, making the climb to the top of the hill well worth the effort. Plus, the Panoramic view from up there is pretty amazing. We particularly enjoyed getting acquainted with Michael whose narration of the gangster-rich history of the landscape was fascinating. We recommend this booking with great enthusiasm.
D
an, Ithaca, NY
Michael is a great host and his rental has a lot to offer. The yurt is well equipped and kept my family warm even when the outside thermometer read -10°F. Michael offered us duck eggs and told us about the Loomis History. My family really enjoyed their stay!
January 2014
Victoria
, Boston, MA
This was my third stay at the yurt (and will not be my last!) As always it was wonderful having my own little oasis of peace and quiet as I visited family over the holidays. There was one minor snafu with one of the heaters/power strips but Michael dealt with it right away. He is an excellent and attentive host but will also leave you your privacy. I can't recommend the yurt highly enough
December 2013
Cyndi
, Vermont
This was our second stay at Michael's yurt. It is a wonderful, warm space with an incredible view. Michael is the perfect host.He goes the extra mile to make guests feel welcome and comfortable without being intrusive. I have recommended the yurt to family and friends visiting the area. We will definitely be back. The first two trips have been family events but we really want to get back for some vacation time to explore the trails. thanks Michael!
November 2013
Andrea
Wonderful place to stay. Snug, cozy, unique, private spot. Michael is a gracious and attentive host who met us with a smile on a cold, rainy night even when we showed up late. We stayed while on a visit with our daughter who is a college student nearby, but would return again to enjoy hiking or just relaxing and getting away from it all. If you are looking for a different place to stay but want to know that it will be nice, try the yurt at Loomis Lair.
October 2013
Wanda
wonderful, wonderful
October 2013
Kevin
My family and I wanted to go camping, but without camping. Rough it, without roughing it. In my search for this, I found Loomis Lair and it fit the bill. The yurt was cozy, but comfortable. The property was terrific. The views were great, it was private, and the hiking to the top of the hill was a great way to spend some time (and come face to face with some deer on the way). There were also some things to do in the area, like some shopping around the Colgate area, or antiquing. But, the peace and quiet on the yurt and property hit the spot for us. I'll also mention Michael was a great host. He met us there, explained about the area.. both it's history and things to do. Nice guy and a gracious host. We hope to visit again, and would recommend staying at Loomis Lair to everyone.
September 2013
Emily, Drew & Buddy
I am please to say our trip was very relaxing and showed us just what is was like to stay in a functional yurt! With a bed including bedding, a full mini kitchen, even a bathroom with shower and toilet! This is definitely in a different camp than camping! The view is lovely, the deck and Adirondack chairs are combined with the view is a winning combination. We shopped at the Saturday farmers market in Hamilton which Micheal had suggested both on his site and in person, and spent the evenings eating the delicious and fresh meals we had prepared from our choice produce in the yurts cute kitchen. And when it became dusk, the glow of the solar lights around the deck slowly light up and created a magical experience sitting out under the stairs. And I cannot say enough about the length at which our dog enjoyed his stay. I'm guessing he may have enjoyed it more then us! from the moment we arrived until the moment I patted the back seat of the car for him to hop back in and head home, he was out in the fresh air, nibbling leaves, rolling in the grass, basking in the sun. In fact he would only come in when it was finally bed time. I was so happy to find such a place so close to home. I would recommend Loomis Lair to any looking for a relaxing and nature filled get away without giving up the comforts of home. You may even have a chance to taste the freshest for fresh duck eggs from Micheal's very own ducks! Sincerely, Emily, Andrew & Buddy (the dog)
September 2013
Maura
Another wonderful visit to Michael's gorgeous property. I think this is our 5th? I've lost track. We stargazed, bird watched, picked wild blackberries and crabapples and feasted while walking and just enjoyed every minute of peace and quiet. As an added bonus, Michael shared some duck eggs with us so we had a delicious parting breakfast. This is our favorite place to stay in the Herkimer/Cooperstown/Cazenovia region. There is so much to do or you can simply do nothing.
August 2013
Pat
Very accommodating host Michael is. Came in late and he was ready for me and ensured that all the details of the property had been communicated. Since I was only there for a short stop over he made certain that if ever passing through again - which I will certainly be- that he would offer me a nights credit for my late arrival and subsequent one night stay. This was really a nice gesture considering the two night minimum requirement. Thanks again Michael and I'll be in town again in a few weeks. Patrick
August 2013
Adine
, NYC, NY
The yurt was perfection as is the location, and Michael is a wonderful host! it was our 2nd time and we look forward to next year when we'll be back!
August 2013
Julie
, Texas
The Yurt was in a beautiful setting! It was very comfortable and Michael was kind and super thorough in going thru everything about the yurt and the surrounding area. We really enjoyed our stay at the yurt and plan to go back again!
Michelle
, Minneapolis, MN
This yurt is a beautiful retreat; a way to connect with nature, animals and a beautiful view of rolling hills. It's got the comforts of a mini "home" with a view of the night sky right above you. Michael is a respectful and thoughtful host. He is knowledgeable of the area as a local, as well as able to share the story of the people of this land. It's a nice way to connect simply with the people and the place. He provides intelligent conversation or peaceful quiet with a sensitivity to the needs of his guests. But, he always creates a space to simply be and enjoy- a true gift. I am selfishly reluctant to share too positively about this Loomis Lair of Michael's as I hope to return regularly and want it to be available for me. But Michael and this amazing place deserve a long list of co-journeyers on the path to help write it's story..... so, go, enjoy and write your part of the story in the journal. Michelle- regular guest and future yurt-owner ;)
August 2013
Ariane
, Switzerland
Our stay at Loomis Lair was amazing: thank you Michael for making it possible. We wanted a place to relax and enjoy nature and found the perfect spot. The yurt is extremely comfortable and offers everything you might need. We barbequed, walked around the property, read and simply sat on the deck enjoying the beautiful view and sunsets. It is so peaceful at Loomis Lair that you'll hear the rare car drifting by long before you'll actually see it. What a rare experience in today's over-everything world. We'll be back, I hope for us :) Keep up the great work Michael and thank you.
July 2013
Jennifer
, Boston, MA
The yurt was great -- very peaceful. Also very clean and well-organized with pretty much anything you might need for cooking, cleaning, finding your way around the area, etc. I couldn't believe how awesome the fireflies were at night. I also saw half a dozen deer and some lovely hot air balloons. I was surprised how cool the yurt stayed even during a relatively hot weekend. I got the feeling the Michael would love to plan an entire visit to the region for you if you're looking for advice (he's got maps, books, etc.), but he really does leave you totally in peace after your initial check-in. The only small issue I had was with the shower temp being extremely difficult to regulate (despite Michael's efforts to advise). But if you're hanging in a yurt, who really needs to shower? I also can't recommend trying to climb the hill if you're not in full-length, snag-proof pants--there are a lot of sharp plants up there! The view is good enough from the yurt itself. :)
July 2013
*The trail to the top of Loomis Hill is now being mowed on a regular basis. The shower is still a bit temperamental.
The yurt is wonderful and is in a beautiful setting. Michael is very helpful - telling you everything you need to know about the yurt and the local area when you arrive and then giving you your privacy (while always being available by phone or text if needed). Recommended!
July 2013
Tamara
We can't say enough about our stay at Loomis Lair! Michael was the consummate host; he filled us in on all the details and a little bit of (fascinating!) history and then left us completely alone for our stay (although he was always "up the hill" if needed). The property is stunning (we never even left the 8 acre retreat), wildlife is abundant, hiking trails are right out your door along with a fire pit, and the yurt is stocked with every possible need. It was the perfect combination of "camping + comfort." We have been spreading the word and can NOT wait to return! Do not hesitate to book this getaway (although, selfishly, I don't want it to become too popular- LOL!). BTW- it is family and dog friendly, too!
Private Feedback:
Michael, Thank you so much for accommodating an extra day when I became sick. We are so grateful we would able to make this trip!! There are no words to describe the serenity and peace your property filled us with. We saw amazing wildlife, reconnected to our inner selves and each other, and embraced every moment of the open spaces far from the city. We have been spreading the word (and your cards) to family and friends. And we are already looking at our calendars to see when we can next visit (thinking fall must be stunning!). Perhaps this time we'll actually venture off the property! You were friendly, welcoming and informative (hopefully Dave remembered to remove the pillows first- LOL!). Yet you also respected our privacy, which we appreciated (not that we couldn't have chatted with you longer!). And we loved reading the Loomis Legend to each other nightly (and to discover your lineage, as well!). Your yurt is perfectly stocked and we hope you are able to follow-through on your vision for additional yurts (we thought one could even be tucked away, walk-up only). We can't wait to see you again... we know this will happen, the only question is when! Hope you are enjoying the summer yourself. We've watched with grave concern the flooded weather patterns in your area. Hopefully, being on the hill, you haven't experienced too much damage. With peace & happiness- Dave & Tamara
June 2013
Christine
Loomis Lair and the surrounding area is one of the most beautiful places I've ever seen. It was great to get away from the city and immerse ourselves in nature without the hassle of pitching a tent. Every afternoon we saw a family of deer graze in the field below and were visited by a curious woodchuck and a busy hummingbird. At night, you can sit on the deck and look up at the stars, then wake up to a chorus of birds in the morning. Michael was an amicable host who was a great resource not only about the history of Loomis Lair, but also the area. He was able to suggest many activities for us to take part in, but we ended up going to the (unmissable) Farmer's Museum where we spent an entire rainy day. If you desire a family vacation or are looking to get away from the city and immerse yourself in the beauty of the countryside, look no further than Loomis Lair. Michael has truly thought of everything to make you feel at home.
Private Feedback:
Hi Michael, Thank you so much for a great vacation! We are definitely planning on visiting again next year! Thanks again, Christine and Scott
June 2013
Richard
, Seattle, WA
Great place to stay, very comfortable and Michael was a great host. Loved listening to the birds in the morning and seeing the deer, groundhogs etc. If we lived closer we would be there on a regular basis.
Private Feedback:
You should try to fix the hot water. It goes hot and cold because of draw by pump tank!
May 2013
Camilla.
This is a gem of a spot! The yurt is so warm and toasty, even when it's snowing outside, and you couldn't get a more welcoming host than Michael. My friend was concerned her back might not be happy on the futon bed, but she got a great sleep both nights. I live on the wrong side of the country to come back frequently, but my NY friend will be back as often as possible. It's a great retreat spot he has created.
Private Feedback:
Thank you so much for sharing this space, Michael, and for all the little details you have taken care of. I don't have anything to add to the little note we left you. Forgot to add anything to the mirror cabinet, but hope you like the CD. Our experience was very healing for both of us. Thanks for being so flexible and patient with us as our plans kept changing.
April 2013
---
____________________________________________________________________________________________________________________________________________________________________________________________________________________________________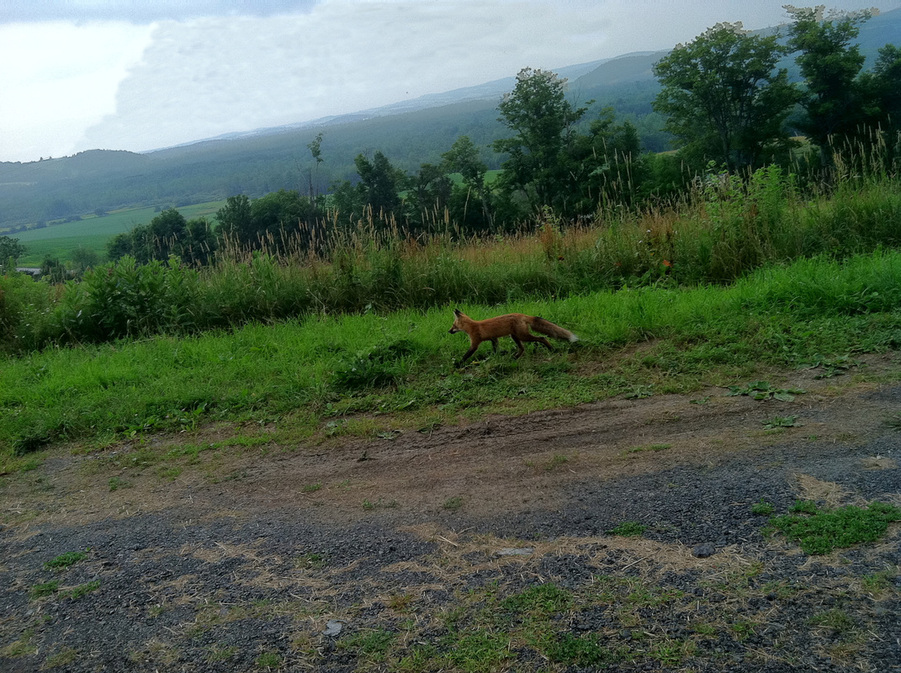 While working on the Yurt on a rainy day in June, this Red Fox walked right past me. without any concern that I was standing there.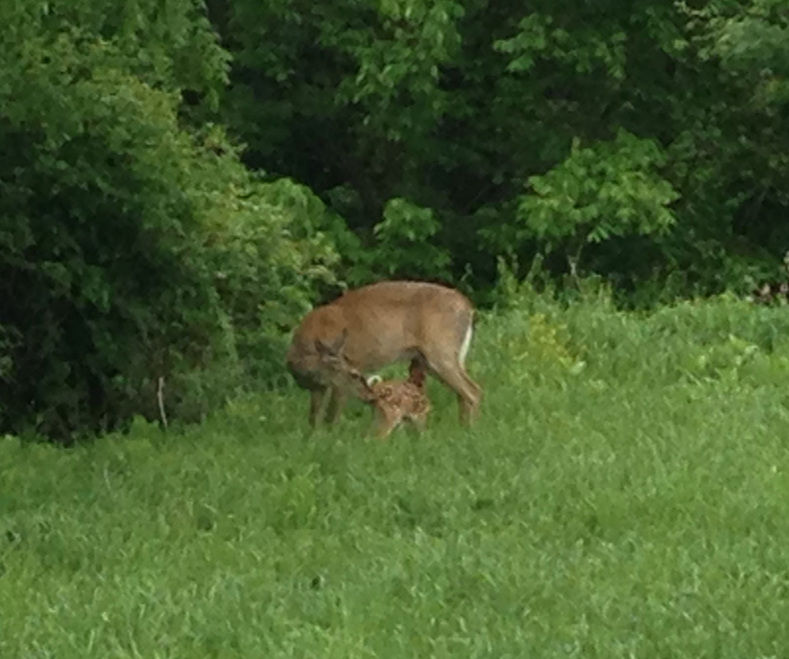 Red Fox at Loomis Lair
Photo credit- Michael Lloyd, March 2011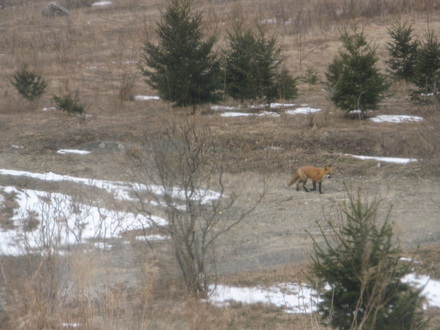 The sighting of a Red Fox Family at Loomis Lair is very exciting. They are very beautiful animals and their presence suggests a very strong Bio-diverse environment. Where there are foxes, there are numerous other animals around that are needed to support a Fox family. They include Rabbits, Mice, Voles, Quail, Grouse and many other small birds, which exist at Loomis Lair because of the habitat that is available to support these creatures.
---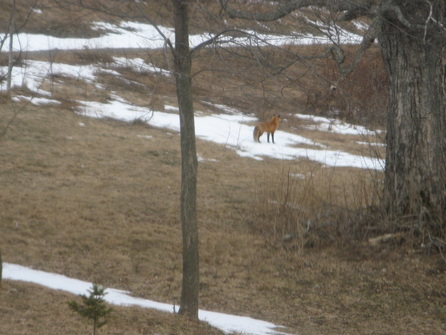 Photo credit- Michael Lloyd, Dec. 2010





Wild Turkeys at Loomis Lair
---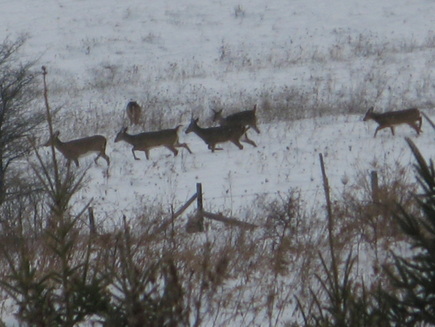 ---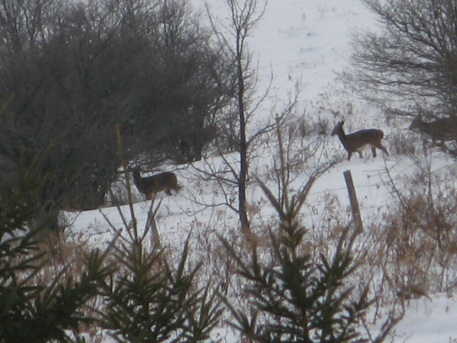 White Tailed Deer at Loomis Lair

---
Please call 203-676-8448, for more information.

____________________________________________________________________________________________________________________________________________________________________________________________________________________________________